Dean's 7-Day Wind/Wave Forecast
(Please note the following disclaimer): This surf forecast is often tweaked a bit- sometimes even radically changing (up or down) based on analysis of the latest forecast model runs that influence potential wave-generating weather systems. Consequently, the 4-7 day portion of the surf forecast should be taken with a grain (or two) of salt…
SATURDAY: Wind increasing from the N/NE 13-18 mph (gusty pm) with waves starting out at 1-1.5′ (+/-0.5′) in mixed period/direction NE/E swell, building during the afternoon to 1.5-2′ (occ+ late) in close period (5-6 sec) NE wind swell.
SUNDAY(25July): Wind east 9-15 mph with waves 1.5-2′ (+/-0.5′) in close to moderate period (6-8 sec) NE/ENE swell.
MONDAY: Wind lightest from the south early, then SE 6-13 mph with waves 1-1.5′ (occ 2′ am) in moderate period (8 sec) ENE/E swell.
TUESDAY: Wind S/SE 7-15 mph with waves 1-occ 1.5′ (+/-0.5′) in moderate period (8 sec) east swell.
WEDNESDAY(29July): Wind light early, becoming S/SE 7-14 mph with waves 1′ (+/-0.5′) in moderate period (8-9 sec) E/ESE swell.
THURSDAY: Wind light SW in the morning, becoming E/SE 6-13 mph in the afternoon with waves 1′ (+/-0.5′) in moderate period (8-9 sec) E/ESE swell.
FRIDAY:
SATURDAY(31July):
General/Coastal Weather Discussion:
The low pressure area that spun up 150 miles east of Daytona Beach along an old frontal boundary east of Florida has a narrow window to slowly organize over the weekend before it drifts south and then west across central Florida Sunday night/early Monday. The moderate wind surge from the gradient between the low and high pressure to the north will encourage a modest uptick in NE/E mix swell building over the weekend. As of Saturday morning, the NHC gives the low 60% chance for tropical development over the next 2 days before it.drifts onshore the Florid peninsula.
Here is what NWS Melbourne had to say in the morning marine discussion: A weak area of low pressure will meander east of Florida through tonight, then drift westward across the central or northern peninsula Sunday. This system, regardless of whether it becomes a tropical cyclone will produce numerous showers and storms over the local waters through early next week. A moderate onshore east to northeast breeze will develop offshore Volusia and Brevard Counties through Sunday morning, accompanied by seas building up to 5 feet well offshore. Winds and seas will subside from late Sunday onward.
Tropical Weather Discussion:
In the tropical Atlantic basin,westward moving tropical waves exiting African are struggling to hold together as they cross the ocean. Historically, it is unlikely during June and July for tropical waves originating in the eastern Atlantic to develop (like Elsa did) during the nearly 2-week trek across the width of the Atlantic. The infrared satellite of the tropical Atlantic continues to show convection (more characteristic of August and September) ejecting off the African coast into the far eastern Atlantic every 4-5 days. However, strong pushes of dry Saharan desert-origin air containing fine particles of desert dust in the mid-levels of the atmosphere will continue to limit development of these waves in the central tropical Atlantic through the remainder of July. Looking ahead to early August, latest model runs suggest a tropical wave will traverse the Atlantic and approach, then enter the Caribbean Sea where some development may occur. However, the wave will be close to land and is likely drift along the coast of central America, limiting development. I'll continue to monitor future MRF model runs for signs of any development as the heart of the season approaches… stay tuned.
Here's a great link to Levi's Blog which discusses in detail Atlantic Basin activity throughout the hurricane season… stay tuned for updates!
Here is the Colorado State University 2021 Hurricane Season Forecast (issued April 8th) calling for the Atlantic Basin to be more active than normal, and NOAA's Forecast (issued May 20th) is calling for more of the same.
Please see the National Hurricane Center and Central Florida Hurricane Center for the latest tropical weather outlook.
Here's the big picture to monitor for additional tropical systems in the Atlantic basin.
NWS Coastal Weather Forecast Links
St. Augustine to Flagler Beach
NWS Jacksonville Coastal Forecast
NOAA upgrading nearshore wave prediction.
Atlantic Ocean Buoy Swell Height (Current and Forecast)
7-day St. Augustine buoy sea height forecast (primary swell).
Florida Coastal Forecast Map (click on zone)
Marine Page for SE Georgia/NE Florida
_________________________________________________________________________________________
This graph illustrates the 14-day forecast for primary swell height and period for the St. Augustine offshore buoy:
This map illustrates sea height contour (in feet) for the near shore Atlantic Ocean east of Florida: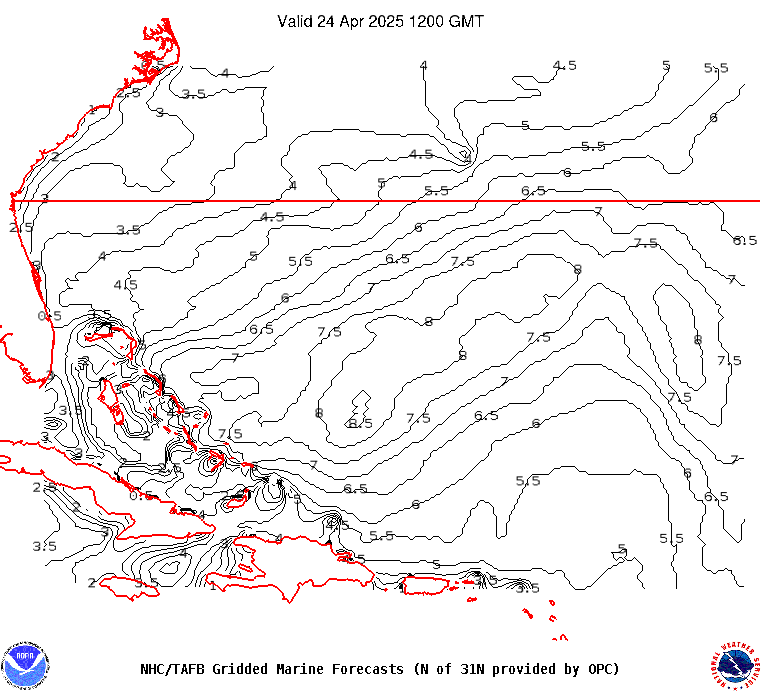 __________________________________________________________________________________________________
To monitor real-time wind speed/direction, here is the 10-meter wind (knots) and sea level pressure (mb) map for Florida:
__________________________________________________________________________________________________
This sea height/period map has weather satellite overlay illustrating clouds associated with wave-generating weather systems: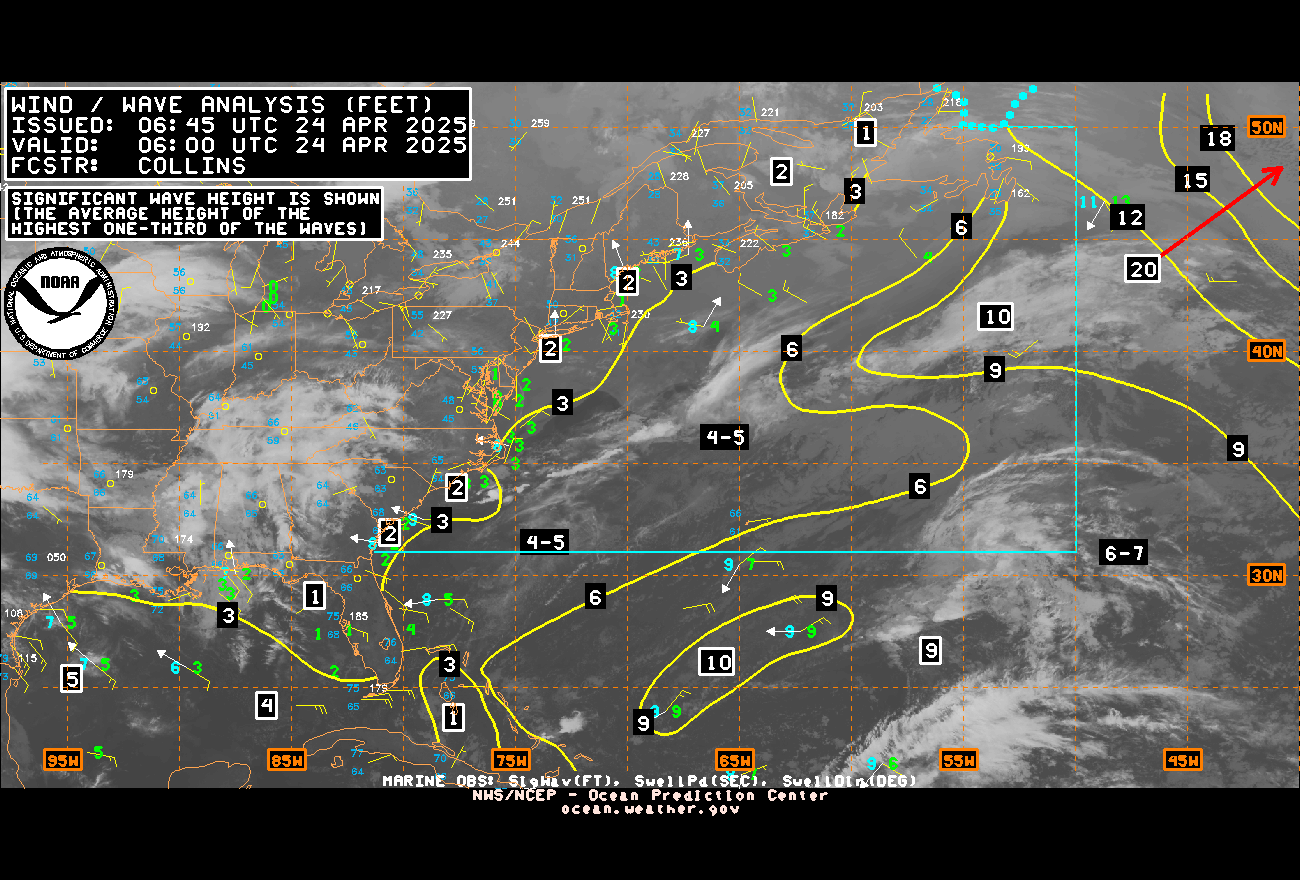 This surface weather map analyzes weather observations, surface pressure (mb) and fronts in the southeast US:
______________________________________________________________________________________________________
FLORIDA EAST COAST ATLANTIC SEA SURFACE TEMPERATURE (C)
GULF OF MEXICO SEAS SURFACE TEMPERATURE (C)
Sea surface temps in the GOMEX and western Caribbean Sea (favored areas for early season development) continue to climb into the low/mid 80sF.
______________________________________________________________________________________________________
The NHC Atlantic Tropical Weather Discussion and the tropical western Atlantic satellite loop are good tools to monitor the Atlantic basin for activity.
Good links (updated regularly) to excellent private websites with forecast discussions monitoring tropical and non-tropical weather impacting Florida and the eastern US:  Central Florida Hurricane Center and WeatherBELL
El Nino Southern Oscillation (ENSO) Discussion
This section will be periodically evaluated and updated as Pacific Ocean sea temperature's tele-connection (
PNA)
 with Florida's weather (and waves) dictates during the fall/winter/spring when the ENSO influences on frontal activity occurs. Here is the link to
NOAA's ENSO
 website to monitor the current and forecast for potential impacts.
OTHER LINKS
Here is a useful link to the 7-day loop of sea height in the Atlantic Ocean (global perspective):
Here are a good link containing offshore (real and virtual) buoy forecasts:
What may lurk beneath our toes in the surf? Great White shark Katherine's traveled along Florida's east coast last winter.  Here is the link to OCEARCH's shark tracking page: 
http://www.ocearch.org/#SharkTracker
_________________________________________________________
Questions, comments, cat-calls, kumquats and kudos (keep'em coming).
_________________________________________________________