Dean's 7-Day Wind/Wave Forecast
(Please note the following disclaimer): This surf forecast is often tweaked a bit- sometimes even radically changing (up or down) based on analysis of the latest forecast model runs that influence potential wave-generating weather systems. Consequently, the 4-7 day portion of the surf forecast should be taken with a grain (or two) of salt…
THURSDAY(13May): Cooler with wind ramping up from the NE 15-23 mph with surf building during the day to 1.5-2.5′ (+pm) in fresh close period (5-6 sec) NE wind swell.

FRIDAY: Wind N/NE 15-22 mph with surf up some more to 2-3′ (+/-0.5′) in close to moderate period (6-7 sec) NE swell.
SATURDAY: Wind NE/ENE 10-20 mph with waves 2.5-3.5′ (+/-0.5′) in moderate period (7-8 sec) NE/ENE swell.
SUNDAY(16May): Wind ENE/E 8-17 mph with waves 2-3′ (+/-0.5′) in moderate to longer period (8-9 sec) ENE swell.
MONDAY: Wind east 7-16 mph with waves 1.5-2.5′ (occ+) in long period (9-10 sec) ENE/E ground swell.
TUESDAY: Wind E/SE 6-15 mph with waves 1.5-occ 2.5′ in moderate to long period (9-11 sec) east ground swell.
WEDNESDAY(19May): Wind lightest from the SE early, then ESE 7-16 mph with waves 1.5-2′ (occ+) in moderate to long period (9-11 sec) east ground swell.
Coastal Weather Discussion
A late season "cold" front will drop into north Florida early Thursday, then wash out down the Florida peninsula. Strong high pressure.sliding off the mid-Atlantic coast will bridge the decaying frontal boundary, inducing a strong onshore surge Thursday afternoon. The onshore flow will continue for several days before clocking more E/SE and moderating over the weekend. This will build a significant NE/E wind swell that will carry through the weekend and linger to start the following work week while spreading out and cleaning up some as the onshore flow eases. There is a hint that the summer rainy season may kick in early, and the first tropical wave (of the 2021 Atlantic season) could evolve in the southern Gulf of Mexico before Memorial Day weekend. Stay tuned for tweaks!
Tropical Weather Discussion
The historic 2020 Hurricane season "officially" ended with the last tropical weather outlook issued December 1st
Here is the Colorado State University 2021 Hurricane Season Forecast (issued April 8th) calling for the Atlantic Basin.
Please see the National Hurricane Center and Central Florida Hurricane Center for the latest tropical weather outlook.
Here's the big picture to monitor for additional tropical systems in the Atlantic basin.
NWS Coastal Weather Forecast Links
St. Augustine to Flagler Beach
NWS Jacksonville Coastal Forecast
NOAA upgrading nearshore wave prediction.
General Tropical/Coastal Weather Forecasts and Discussion
Here are links a pair of great sites which monitor and discuss tropical cyclone activity in the Atlantic Basin: Levi's Tropical Tidbits blog and Central Florida Hurricane Center (CFHC)
7-day St. Augustine buoy sea height forecast (primary swell).
Florida Coastal Forecast Map (click on zone)
Marine Page for SE Georgia/NE Florida
_______________________________________________________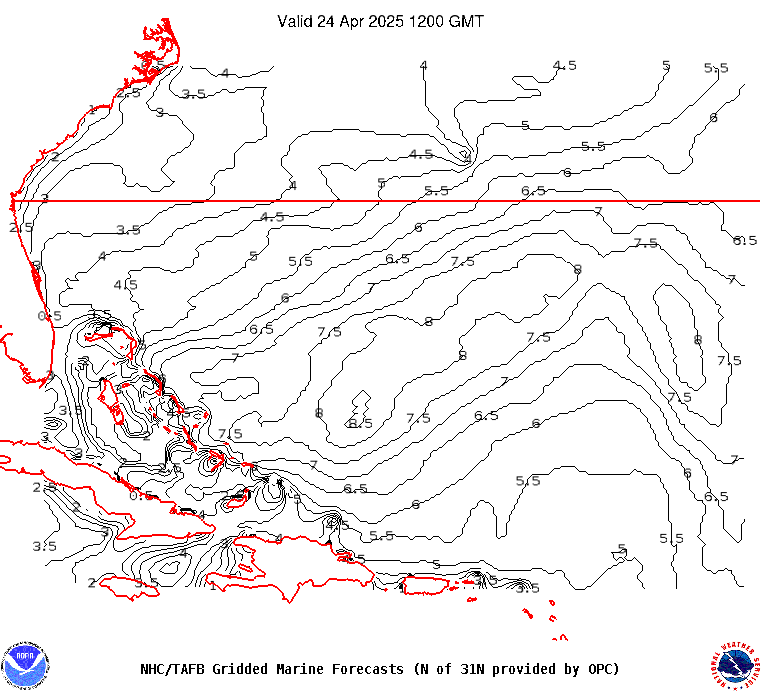 ___________________________________________________________________________
To monitor real-time wind speed/direction, here is the 10-meter wind (knots) and sea level pressure (mb) map for Florida:
________________________________________________________________________________
This real-time sea height/period map has weather satellite overlay illustrating clouds associated with wave-generating weather systems:
This surface weather map illustrates surface pressure (mb), associated storm systems and fronts over the southeast US and near shore Atlantic Ocean:
Here is a useful link to the 7-day loop of sea height in the Atlantic Ocean (global perspective):
Here are a good link containing offshore (real and virtual) buoy forecasts:
______________________________________________________
Questions, comments, cat-calls, kumquats and kudos (keep'em coming).
______________________________________________________