h
Dean's 7-Day Wind/Wave Forecast
(Please note the following disclaimer): This surf forecast is often tweaked a bit- sometimes even radically changing  (up or down)- based on analysis of the latest forecast model runs that influence potential wave-generating weather systems. Consequently, the 4-7 day portion of the surf forecast should be taken with a grain (or two) of salt…
SATURDAY: Wind light early, then SE 7-13 mph with waves starting out 1/2-occ 1′ in east swell, up during the afternoon to 1-occ 1.5′ (+/-0.5′) in moderate to occ/inc long period (8-14 sec) ENE/E swell.
SUNDAY(28Feb): Wind SW/S 8-14 mph with waves 1-1.5′ (+/-0.5′) in moderate to long period (8-14 sec) ENE/ESE mix swell.
MONDAY(1Mar): Wind SW/WSW 7-16 mph with waves 1-occ 1.5′ in moderate to occ/inc longer period (9-13 sec) east swell.
TUESDAY: Wind W/WNW 6-13 mph in the morning, becoming onshore in the afternoon with waves 1′ (occ/inc+) in moderate to occ/inc longer period (9-12 sec) ENE/Ex swell.
WEDNESDAY: Wind clocking NE/ENE 10-20 mph with waves up during the day to 1.5-2′ (+/-0.5′) in moderate period (7-8 sec) NE/ENE swell.
THURSDAY(4Mar): Wind backing NE/N 10-20 mph with waves 1-2′ (+/-0.5′) in mixed close to moderate period (6-9 sec) ENE/E swell.
FRIDAY:
SATURDAY:
SUNDAY(7Mar):
Coastal Weather Discussion
Winter takes a break in Florida following the cold dry weather in January and the first half of February. Strong high pressure that pushed off the mid-Atlantic coast last week, now centered near Bermuda will hold through the last weekend in February, establishing a veering SE/S/SW flow. The ESE fetch on the underbelly of the high will produce a small to moderate size swell just ahead of a weak/slow-moving cold front entering the SE US, forecast to ooze into north Florida late Tuesday. After a very warm weekend and start to the work week, increasing cloud cover and onshore flow will lead to cooler weather starting mid-week and continuing the remainder of the work week. Current forecast modeling indicates rideable surf through the work week.
The historic 2020 Hurricane season "officially" ended with the last tropical weather outlook issued December 1st
Please see the National Hurricane Center and Central Florida Hurricane Center for the latest tropical weather outlook.
Here's the big picture to monitor for additional tropical systems in the Atlantic basin.
On a different note… we lost a good one this month: Ben Aipa RIP
NWS Coastal Weather Forecast Links
St. Augustine to Flagler Beach
NWS Jacksonville Coastal Forecast
General Tropical/Coastal Weather Forecasts and Discussion
Here are links a pair of great sites which monitor and discuss tropical cyclone activity in the Atlantic Basin: Levi's Tropical Tidbits blog and Central Florida Hurricane Center (CFHC)
Atlantic Ocean Buoy Swell Height (Current and Forecast)
7-day St. Augustine buoy sea height forecast (primary swell).
Florida Coastal Forecast Map (click on zone)
Marine Page for SE Georgia/NE Florida
_______________________________________________________
Due east (250 statute miles) of Jacksonville, this virtual buoy indicates the 7-day forecast for primary swell height, period and direction:
This map illustrates sea height analysis/forecast for the Atlantic Ocean just north of the northern Bahamas off the southeast Florida coast: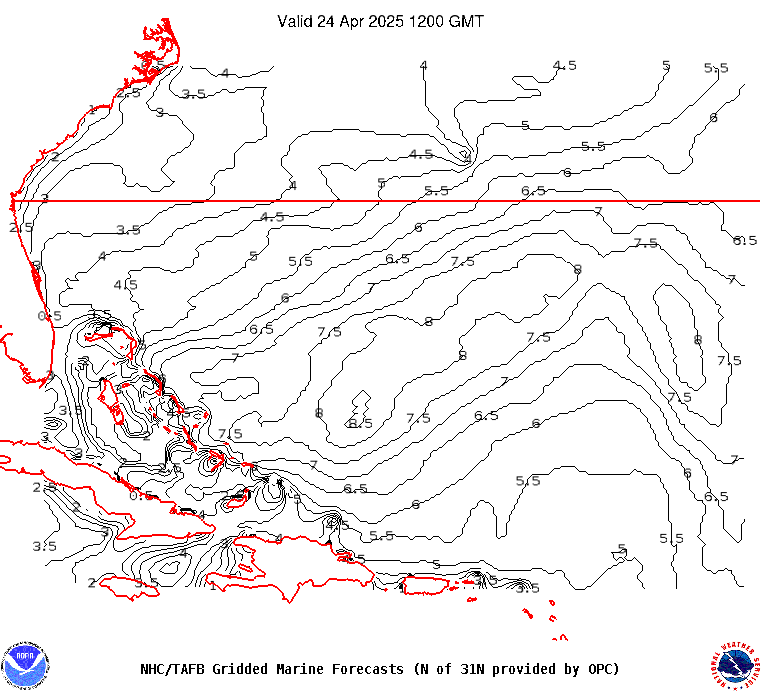 ___________________________________________________________________________
To monitor real-time wind speed/direction, here is the 10-meter wind (knots) and sea level pressure (mb) map for Florida:
________________________________________________________________________________
This real-time sea height/period map has weather satellite overlay illustrating clouds associated with wave-generating weather systems: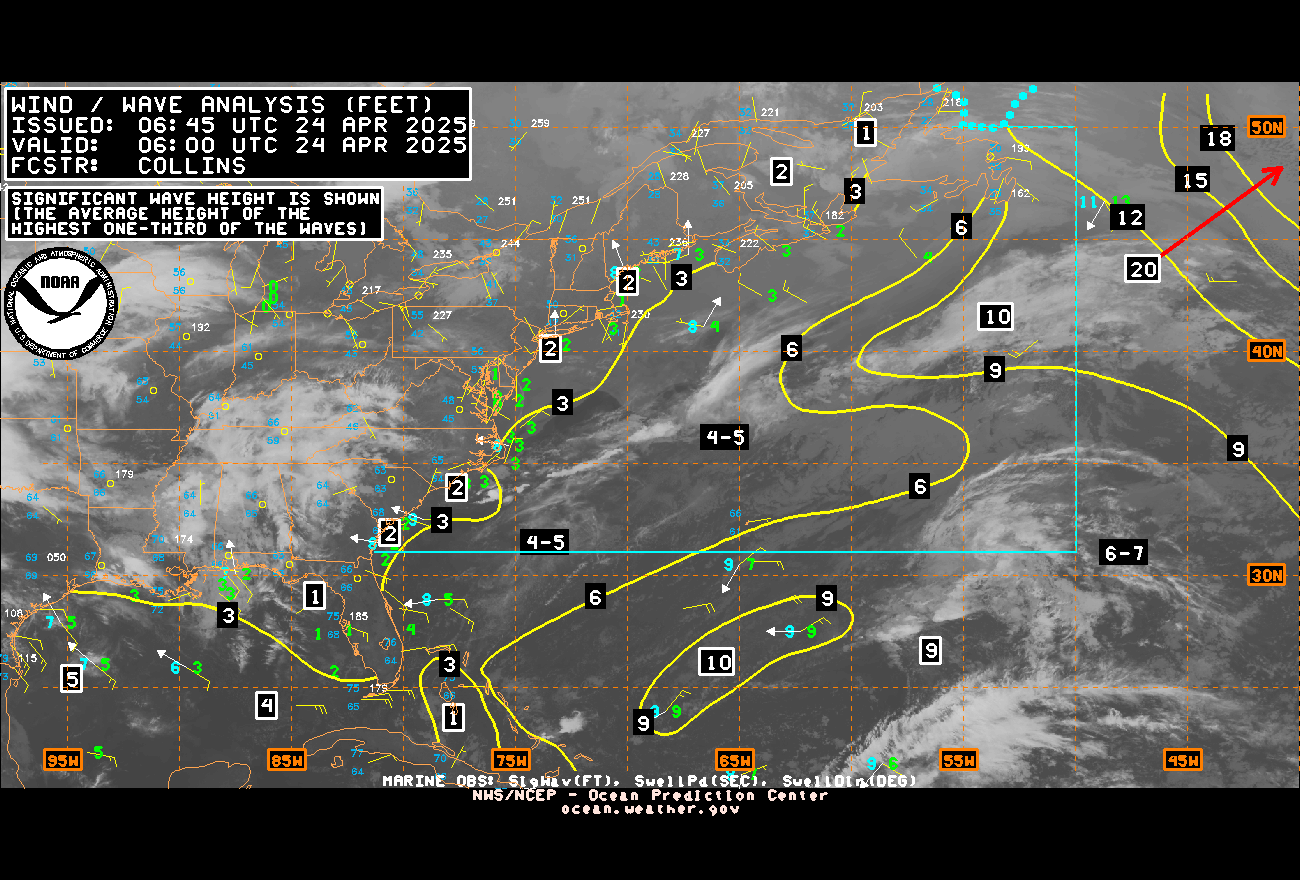 This surface weather map illustrates surface pressure (mb), associated storm systems and fronts over the southeast US and near shore Atlantic Ocean:
_______________________________________________________
FLORIDA EAST COAST ATLANTIC SEA SURFACE TEMPERATURE (C)
GULF OF MEXICO SEAS SURFACE TEMPERATURE (C)
Sea surface temps in the GOMEX have also cooled considerably following seasonal peak in early September.
_____________________________________________________________________________
The NHC Atlantic Tropical Weather Discussion and the tropical western Atlantic satellite loop are good tools to monitor the Atlantic basin for activity.
Good links (updated regularly) to excellent private websites with forecast discussions monitoring tropical and non-tropical weather impacting Florida and the eastern US:  Central Florida Hurricane Center and WeatherBELL
El Nino Southern Oscillation (ENSO) Discussion
This section will be periodically evaluated and updated as Pacific Ocean sea temperature's tele-connection (
PNA)
 with Florida's weather (and waves) dictates during the fall/winter/spring when the ENSO influences on frontal activity occurs. Here is the link to
NOAA's ENSO
 website to monitor the current and forecast for potential impacts.
OTHER LINKS
Here is a useful link to the 7-day loop of sea height in the Atlantic Ocean (global perspective):
Here are a good link containing offshore (real and virtual) buoy forecasts:
What may lurk beneath our toes in the surf? Great White shark Katherine's traveled along Florida's east coast last winter.  Here is the link to OCEARCH's shark tracking page: 
http://www.ocearch.org/#SharkTracker
______________________________________________________
Questions, comments, cat-calls, kumquats and kudos (keep'em coming).
______________________________________________________