Dean's 7-Day Wind/Wave Forecast
(Please note the following disclaimer): This surf forecast is often tweaked a bit- sometimes even radically changing (up or down)- based on analysis of the latest forecast model runs that influence potential wave-generating weather systems. Consequently, the 4-7 day portion of the surf forecast should be taken with a grain (or two) of salt…
SUNDAY: Wind light W/SW in the morning, becoming S/SE 6-15 mph in the  afternoon with waves 1′ (+/-0.5′) in moderate period (9 sec) E/SE swell.
MONDAY(10Aug): Wind light/variable early, becoming light south mid-morning, then SE 6-14 mph late morning through the afternoon with waves  bottoming out around 1/2-1′ (+/-0.5′) in moderate period (8-9 sec) E/SE swell.
TUESDAY: Wind light SSW/S in the morning, becoming S/SSE 7-15 mph by early afternoon with waves occ 1′ (+/-0.5′) in small-scale moderate period (8-9 sec) ESE swell.
WEDNESDAY: Wind light SW/S in the morning, becoming SE 6-15 mph in the afternoon with waves 1′ (+/-0.5′) in moderate to occ longer period (9-10 sec)  ESE swell.
THURSDAY(13Aug): Wind light SW/S in the morning, becoming ESE 6-16 mph in the afternoon with waves up some during the day to 1-occ 1.5′ (+/-0.5′) in moderate to occ long period (9-11 sec) ESE swell.
Current Tropical/Coastal Weather Discussion
From the NHC tropical weather discussion (8/8/2020): A tropical wave is located several hundred miles west-southwest of the Cabo Verde Islands.  Slow development of this system is possible during the next couple of days as it moves slowly westward. After that time, environmental conditions are expected to become less conducive for development.
* Formation chance through 48 hours…low…10 percent.
* Formation chance through 5 days…low…10 percent.
Looking well ahead, medium range forecast model runs that had previously suggested a strong hurricane entering the southern Gulf of Mexico around  August 20-21 have totally backed off: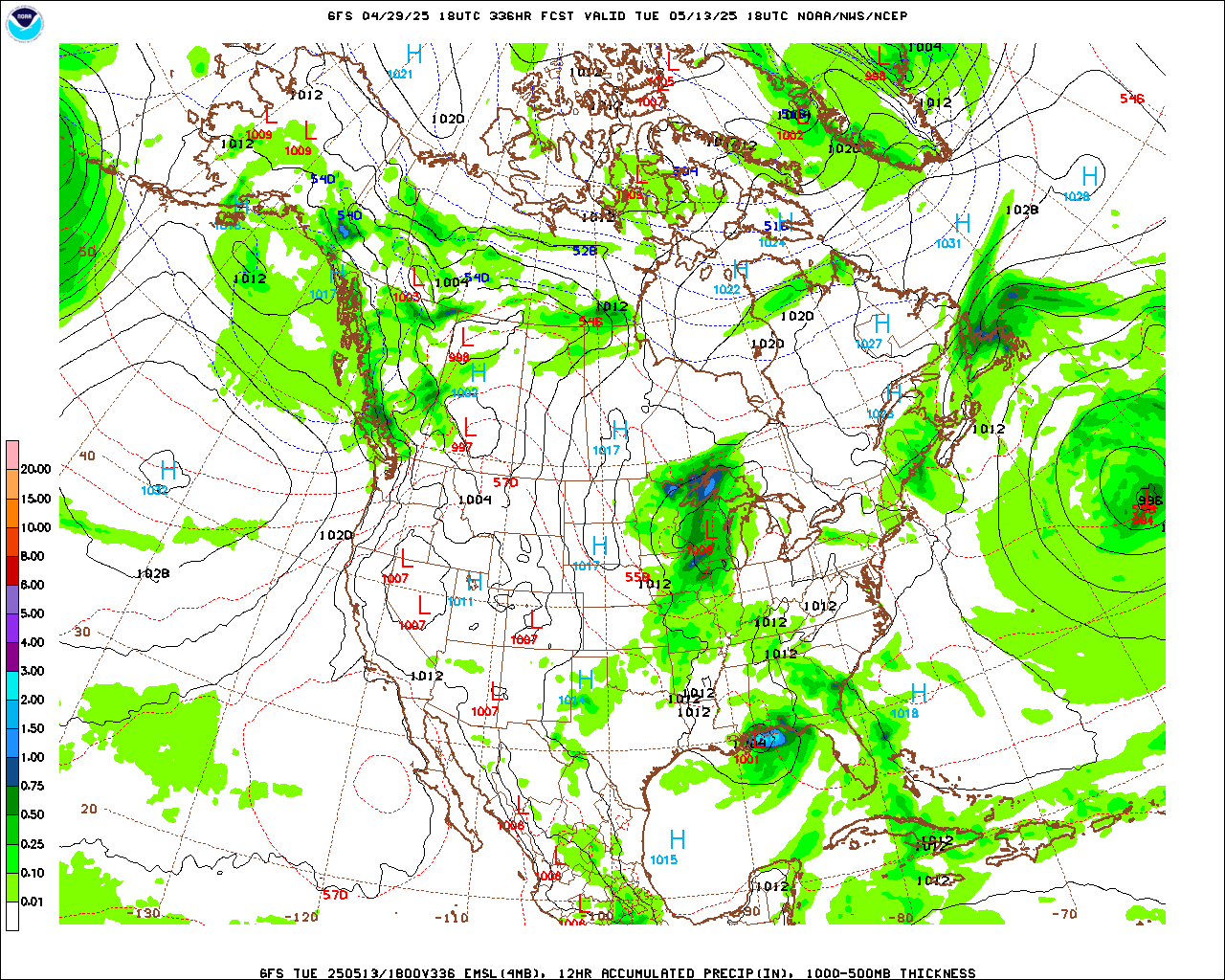 Run to run, earlier in the week the GFS consistently suggested this for several days with little variation in track and intensity of a strong topical system entering the southern Gulf of Mexico the 3rd week in August. As you can see with the above screen grab, the GFS flopped to nada now. I'll monitor models to see if any flip back to game on in the Gulf.  Stay tuned…
NWS Coastal Weather Forecast Links
St. Augustine to Flagler Beach
NWS Jacksonville Coastal Forecast
General Tropical/Coastal Weather Discussion
NOAA'S Climate Prediction Center discussion of sea surface temperature (SST) indicates anomalies running 1.5-2.5 degrees C above normal, increasing the  potential for tropical cyclogenesis as the hurricane season progresses toward the September 10th climatological peak of activity and other environmental paralmeters become more favorable.
The Climate Predictions Center (CPC) just issued the second update for the  National Oceanic and Atmospheric Administration's Atlantic basin hurricane season: NOAA 2020 Atlantic Hurricane Season Forecast.
Colorado State University (CSU) issued their 3rd update for the 2020 Atlantic basin hurricane season: CSU 2020 Hurricane Season Forecast.
Both NOAA and CSU have upped the ante, predicting a well above normal (possibly historical) active season with a total of up to 25 named storms, 12 becoming hurricanes with up to 6 reaching Major Hurricane status. WOW!!!!
Researchers in the Earth System Science Center at Penn State University (PSU)  also forecast an active season with the possibility of 20 named storms: PSU Forecast.
Atlantic Ocean Buoy Swell Height (Current and Forecast)
St. Augustine buoy 7-day forecast for sea height forecast (primary swell):
Florida Coastal Forecast Map (click on zone)
Marine Page for SE Georgia/NE Florida
_______________________________________________________
Upstream from Florida's east coast in our ESE swell window, the 
NE Bahamas buoy #41047
 documents sea conditions, and this chart illustrates swell trends:
This map illustrates sea height analysis/forecast for the Atlantic Ocean just north of the northern Bahamas off the southeast Florida coast: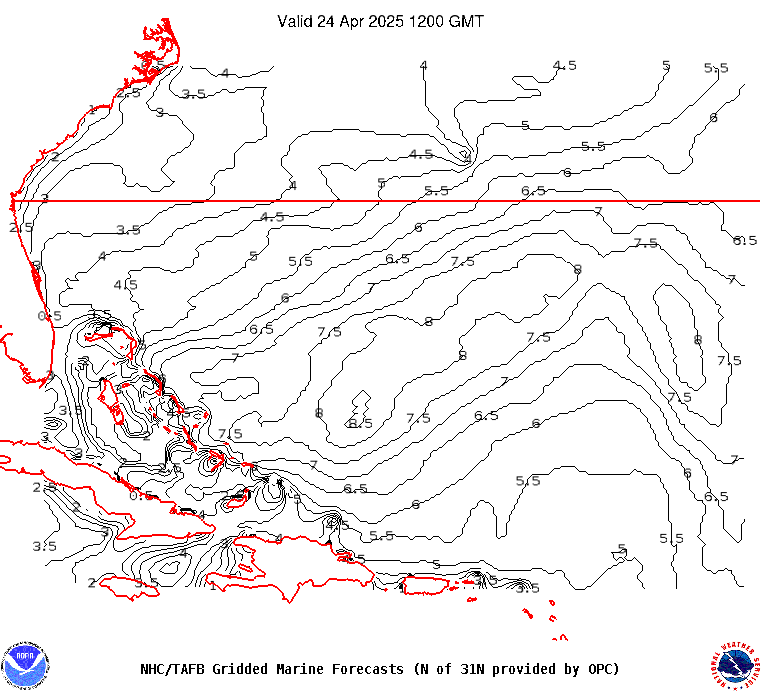 ___________________________________________________________________________
To monitor real-time wind speed/direction, here is the 10-meter wind (knots) and sea level pressure (mb) map for Florida:
________________________________________________________________________________
This real-time sea height/period map has weather satellite overlay illustrating clouds associated with wave-generating weather systems: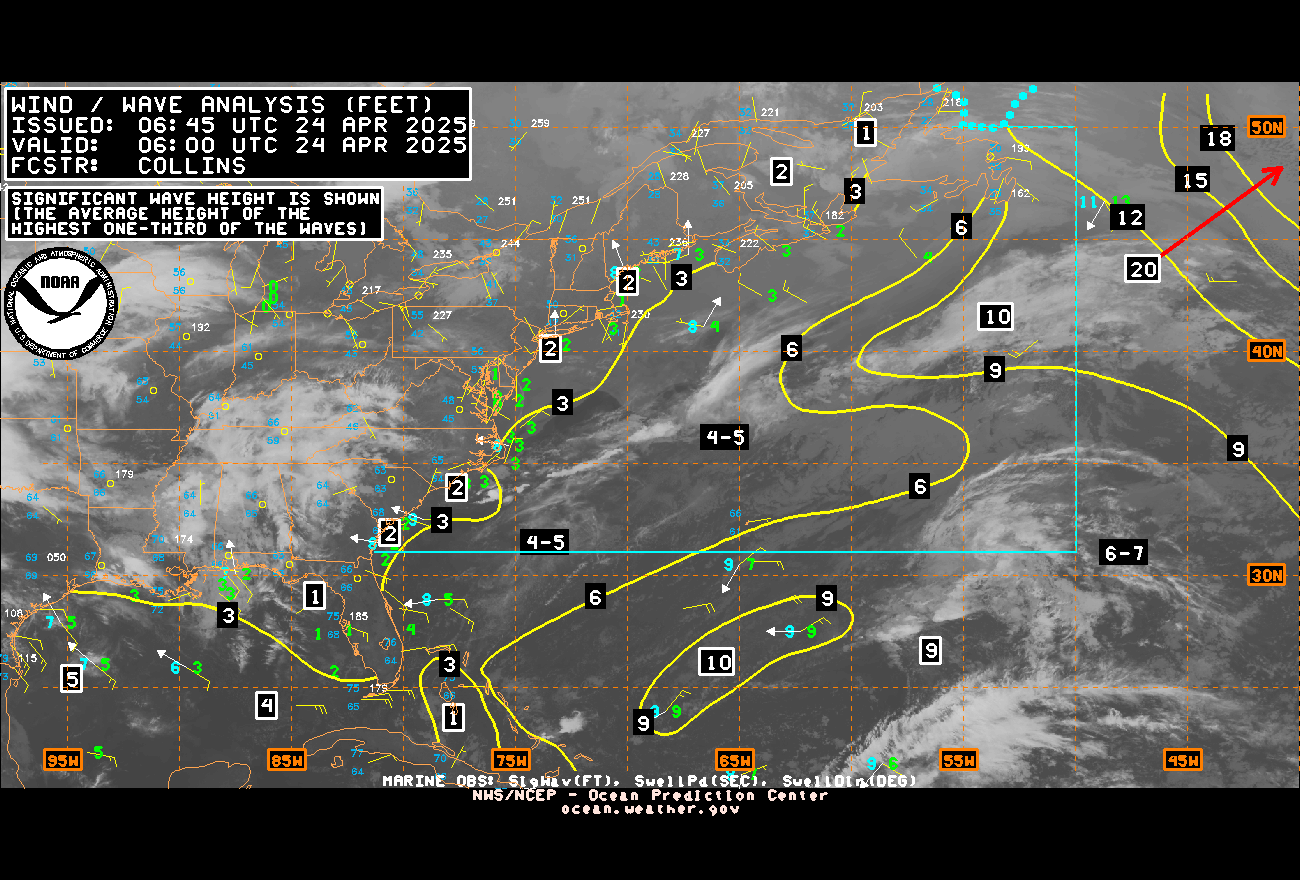 _______________________________________________________
This surface weather map illustrates surface pressure (mb), associated storm systems and fronts over the southeast US and near shore Atlantic Ocean:
_______________________________________________________
ATLANTIC OCEAN SURF TEMPERATURES
_
______________________________________________________
PATCH (Potential for Atlantic Tropical Cyclones and Hurricanes)
CSU's Dr. Klotzbach discusses the tropics and weather in his Twitter feed.
The NHC Atlantic Tropical Weather Discussion and the tropical western Atlantic satellite loop are good tools to monitor the Atlantic basin for activity.
Good links (updated regularly) to excellent private websites with forecast discussions monitoring tropical and non-tropical weather impacting Florida and the eastern US:  Central Florida Hurricane Center and WeatherBELL
El Nino Southern Oscillation (ENSO) Discussion
This section will be periodically evaluated and updated as Pacific Ocean sea temperature's teleconnection (
PNA)
 with Florida's weather (and waves) dictates during the fall/winter/spring when the ENSO influences on frontal activity occurs. Here is the link to
NOAA's ENSO
 website to monitor the current and forecast for potential impacts.
OTHER LINKS
Here is a useful link to the 7-day loop of sea height in the Atlantic Ocean (global perspective):
Here are a good link containing offshore (real and virtual) buoy forecasts:
What may lurk beneath our toes in the surf? Great White shark Katherine's traveled along Florida's east coast last winter.  Here is the link to OCEARCH's shark tracking page: 
http://www.ocearch.org/#SharkTracker
______________________________________________________
Questions, comments, cat-calls, kumquats and kudos (keep'em coming)…
______________________________________________________