27March2017
Weather Discussion
The E/ESE swell will hold  nicely through the first half of the work week with generally light wind. The area of low pressure that developed in the Atlantic several hundred miles east of the central Bahamas is forecast to intensify (sub-tropical storm Arlene?) while drifting slowly north then northeast during the first half of the work week. Consequently, the ongoing ESE/E swell will spread out in period and transition to a longer period ground swell while holding good size through mid-week, and wind should stay favorably offshore each morning to light onshore in the afternoon.
1-3 Day Wind/Wave Forecast
MONDAY: Wind near calm to light offshore early in the morning, becoming onshore 5-14 mph in the afternoon with waves 2-2.5′ (occ +) in moderate to occ longer period ESE swell with a dominant period of 10 seconds.
TUESDAY (28Mar): Wind light SW/S in the morning, becoming S/SE 6-15 mph by early afternoon with waves 2-3′ (occ +) in moderate to occ long period ESE ground swell with a dominant period of 10 seconds.
WEDNESDAY: A very warm day with wind SW 5-13 mph in the morning, becoming side-onshore from the S/SSE 5-15 mph by afternoon with waves holding at 2-occ 3′ in moderate to occ longer period ESE ground swell with a dominant period of 11 seconds.
4-7 Day Wind/Wave Forecast
Please Note: This extended portion of the surf forecast will periodically be extended and continually tweaked, or even radically changed (up or down), as model analysis of potential wave-generating weather systems warrant. In other words, don't plan your sick days more than 3 days in advance based on this portion of the forecast.
THURSDAY: Wind SSW in the morning, becoming SE 5-15 mph in the afternoon with waves 1.5-occ 2.5′ (occ + sets am) in long period ESE/E ground swell.
FRIDAY (31Mar): Wind SW 6-14 mph, becoming south later in the afternoon with waves 1-2′ (occ + sets am) in less consistent long period easterly ground swell.
SATURDAY: Wind WNW/NW 5-15 mph, becoming north later in the day with waves dropping down to 1-occ/inc 2′ in fading long period E/ENE ground swell.
SUNDAY: Wind light NW/N in the morning, becoming NE 5-13 mph by afternoon with waves 1-occ 1.5′ in moderate period NE swell.
BEYOND THE 4-7 DAY FORECAST NOTE: After a relatively mild second half of February and a very warm first week of March with consistently rideable waves, a dip in the polar jet stream set up on the 14th of March, funneling some of the coldest air of the winter our way for several days. Models accurately forecast this outbreak over a week in advance. Latest model runs indicate weather will return to seasonally mild levels accompanied by periodic upticks rotating NE/E/SE swell when the lengthy wave-generating fetch from strong high pressure areas building behind late season cold fronts sets up over the western Atlantic Ocean..
EL NINO/LA NINA WINTER DISCUSSION
El Nino conditions in the eastern Pacific greatly influenced winter weather patterns over North America in late 2015 and early 2016. The southern jet stream was active across the SE US in January and February when Pacific-origin storm systems tracked across the CONUS then tapped into the northern Gulf of Mexico before impacting Florida's weather with periodic fronts spawning tornados and producing waves. In spring, SST's in the eastern Pacific trended back to near normal as El Nino faded, and SST's reached climatological normal (neutral) in May. Weak La Nina conditions (cooler than normal eastern Pacific SST's) developed as summer progressed, however no adverse impact on the formation and intensity of tropical systems occurred during the 2016 Atlantic hurricane season, and activity reached historical levels. As winter 2017 progresses, the southern jet stream should become a more significant player, allowing storm systems to traverse the lower tier of the US then emerge off the east coast where significant intensification will be possible. This weather pattern will bode well for periodic swell activity. We may see a
negative phase
of the 
North Atlantic Oscilation
(NAO) develop by mid-March that
could funnel some of the coldest weather of the winter into Florida if latest model analysis is correct
. Here is the link to the NWS Melbourne's page to monitor ENSO:
http://www.srh.noaa.gov/mlb/?n=mlbnino
2016 Hurricane Season Summary
Hurricane Otto landfilled near the Costa Rica/Nicaragua border as a strong Category 2 hurricane- an  unprecedented (in modern history) event capping off what has been an exceptionally unusual record-setting 2016 Hurricane Season. This is a good link that highlights the 2016 hurricane season,  the most active  in Florida in the past decade.
Summary of tropical activity impacting and/or producing surf in Florida (to date):
During July the Atlantic Basin was remarkably devoid of easterly waves and significant convection, with the zero tropical cyclogenesis. After a remarkably quite July, the tropical Atlantic and western Caribbean Sea remained quite through mid-August. The second half of the month was increasingly active. Major Hurricane Gaston had 120 mph winds and generated 35′ seas well out to sea in the open mid-Atlantic during the last week in August, providing the best swell of the summer (to date). Then tropical wave 99L struggled through the Caribbean, entered the Gulf and transformed into Category 1 Hermine, slamming the Big Bend of Florida with 80 mph winds to start September before becoming a non-tropical low by Labor Day, then meandered offshore from the northeast coast for several days radiating a NE groundswell.
Tropical Storm Ian tracked NW/N in the central Atlantic in mid-September, then re-curved well east of Bermuda and accelerated off to the NE. The minor ground swell from this Ian peaked along Florida's east coast on the 16th of September. Yo-yo Julia pumped in a moderate period NE swell as she meandered off the SE US coast as a depression/storm for nearly a week in mid-September. Looking ahead for the next tropical system, impressive tropical wave Invest 95L moved off the African coast early in the work week and quickly became TD12 and then tropical storm Karl on a WNW track across the central Atlantic. The fetch associated with distant Karl contributed a moderate-size weekend ground swell before the tropical storm departed into the North Atlantic.
Major hurricane Nicole slammed Bermuda as a strong Category 3, then weakened as she slowly tracked ENE over the cooler waters of the north Atlantic, then amazingly regained tropical characteristics and hurricane status (near 40N latitude!!) and is generating 40'+ seas with an expansive fetch while slowly meandering east before racing NE as an extra-tropical gale.
Hurricane Matthew progressed westward across the central Caribbean Sea, intensifying from a tropical storm into a Category 4/5 hurricane (inside of 36 hours!), then tracked north across western Haiti and the eastern tip of Cuba, through the central/northern Bahamas, then just offshore along Florida's east coast, pummeling beaches from the Cape northward with hurricane force clocking NE/N/NW winds.
While Category 1 Hurricane Hermine ended Florida's record setting 10+ year absence of a hurricane landfall, Major hurricane Matthew's near miss continued the lack of Category 3 or stronger hurricanes hitting areas along the state's lengthy coastline, and many communities in Florida are still long over due for a Major Hurricane.
Looking at the big picture, the western Caribbean Sea and southern Gulf of Mexico were the areas to monitor for late season tropical cyclogenesis, and the western Atlantic is the region to watch for extra tropical coastal low development in winter. Of note, William Gray, the pioneer of long range hurricane activity prediction, died April 16, 2016 at the age of 86. Here is a link to the impact the 2016 hurricane activity had on our coast: Florida beaches face sand shortage
______________________________________________________________________________
To monitor real-time wind speed/direction, here is the 10 meter wind and sea level pressure map for Florida: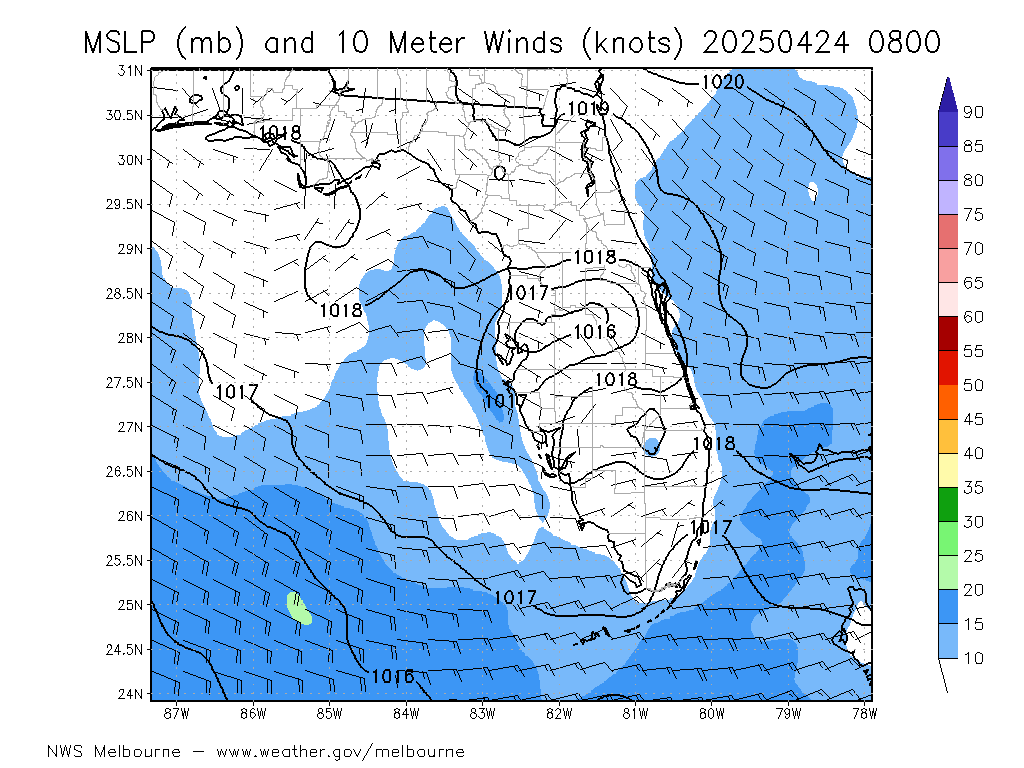 ____________________________________________________________________________________
And to monitor low/high pressure areas and associated fronts, here is the current surface map for the Eastern CONUS:
____________________________________________________________________________________
The real-time weather/wind/wave analysis satellite product above is a great tool to monitor for Gulf of Mexico and Atlantic Ocean storm systems and the generated swell's height/direction as the winter 2015-16 El Nino pattern's influence gradually wanes.
2016-17 (ongoing) WATER TEMPERATURE DISCUSSION
Given the cold weather outbreaks from mid-January (2016) into late February, sea surface temperatures (SST's) observed in the near-shore waters of the Atlantic Ocean off Florida's east coast bottomed out in the mid to upper 50's north of the Cape early in February before recovering above 60F for good at the start of March. Several strong cold fronts produced unseasonably cool weather the first 10 days of April, and surf temps responded by lingering a few degrees either side of 70F into early May. Surf temps steadily climbed through the mid-70's in May, into the low 80's in June. Given the extremely warm/dry weather, stagnant local surface winds and weak sea breezes, SST's in the mid to even upper 80's were common in July, a month ahead of historical peak temperatures. A return to wetter weather and a more consistent S/SE wind flow in early August produced a long shore current and a consequent upwelling of much cooler offshore shelf water moved into the surf zone, briefly cooling surf temps down into the low 70's (+/-2F) north of the Cape. The upwelling event petered out in mid-August and surf temps generally recovered to 80F (+/-2F) for the remainder of the month and held steady hrough September into the start of October. Hurricane Matthew then stirred up the ocean October 6-7th and knocked near shore water temps down into the mid-70's by mid-October, then fall's first significant cold front plowed through Florida on the 21st, notching SST's down into the low 70's north of the Cape the last week of October. Surf temps continued a slow downward trend in November, dropping into the mid to upper 60'sF north of the Cape by Thanksgiving where they held into mid-December. The downward trend to resumed leading up to Christmas as a brisk northerly flow behind several weak cold fronts pushed pockets of cold water off the Georgia coast southward into Florida.
After a minor recovery into the mid-60's between Christmas and New Years, SST's north of the Cape briefly plummeted to near 60F (+/-2F) in early January (2017) behind a strong Arctic blast. A nice recovery into the mid-60's (+/-1F) mid-month to January 23rd kept surf temps exceptionally mild (for mid-winter). Unfortunately, the last week of January brought a period of the coldest weather this winter, briefly hammering nearshore SST's down to 59F by the start of February. The return of unseasonably mild weather during much of February allowed surf temps to recover and hold in the mid-60's (even upper 60's north of the Cape). A vigorous low that moved across the Florida peninsula into the Atlantic just south of the Cape on February 23 generated sizeable seas that stirred up coastal shelf waters, allowing pockets of cool deep water to surface locally near shore. This, combined with a strong/cool high pressure area behind another front in early March ramping up the onshore flow held surf temps in the mid to upper 60's. A strong east coast winter storm system combined with a radical dip in the northern jet stream allowed an Arctic air mass to push into Florida mid-March, will drop surf temps down into the low to mid 60's north of the Cape (just in time for spring break!) :
OTHER LINKS
Here is a useful link to the 7-day loop of sea height in the Atlantic Ocean (global perspective):
Here are a good link containing offshore (real and virtual) buoy forecasts:
What may lurk beneath our toes in the surf? Great White shark Katherine's traveled along Florida's east coast last winter.  Here is the link to OCEARCH's shark tracking page: 
http://www.ocearch.org/#SharkTracker
_________________________________________
Questions, comments, cat-calls, kumquats and kudos (keep'em coming)…